Survival tip for busy parents: Keep baby snacks on hand when your child begins eating solid foods. It's not just a quick fix for a cranky kid on the go; it's an essential part of your child's growth as well. The majority of babies will wean between the ages of four and six months, but this is not a universal rule. If your baby can sit on their own and lean forward when food is offered, they are ready to start eating solids. However, it's best to consult with your doctor first.
Babies typically begin their diets with soft foods such as baby cereal, pureed fruits, and mashed vegetables that have been steamed. Allowing your baby to chew on teething toys, silicone bibs, and even your finger can help them develop the jaw muscles that will allow them to eat solid foods later on. Protein, fibre, and healthy fats work together to provide your child with the energy that they require. Healthy snacks for your baby or toddler are simple to prepare when you're on the go with your child. Keep these five baby snacks on hand at all times because they are the best!
When to Serve Snacks to Baby
At 12 months old, most toddlers eat 2-3 snacks a day, usually between breakfast and lunch, lunch and dinner, and occasionally after dinner if needed. However, keep in mind that every child is different and may necessitate different amounts of care. Always be on the lookout for signs that your child is becoming hungry between meals. Because children thrive on routine, it is best to set a time each day for a snack.
Eating Healthy Baby Snacks will Help to Ensure That Your Baby;
Familiar with various healthy foods. They will be more likely to develop a taste and desire for something varied and balanced.
Make sure your child gets enough vitamins and minerals to support rapid growth in the first two years of life.
As a result of their small stomachs, babies must frequently eat throughout the day in order to consume enough calories for keeping up with their rapid development. The average well-nourished baby gains 200% of his body weight in the first 12 months and quadruples it within 24 months!

Learning how to eat healthily.

Socialization and healthy eating habits can be modelled at snack time, just like at mealtime.
Top 5 Baby Snacks That Great On The Go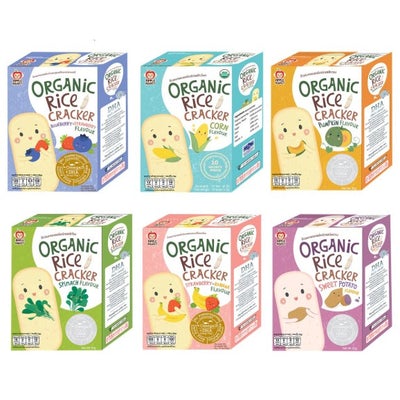 When your baby first begins to crawl, his gums may become itchy. He tries to bite everything in his immediate vicinity. During this time, it is appropriate for your baby to experiment with some nutritious finger food that has a mild flavour and a soft texture. Your baby will learn how to grab, smell, and taste new things as part of the process known as self-feeding. This method can assist him in soothing his gums and selecting a nutritious snack on his own.
What is it about Apple Monkey Organic Rice Cracker that makes it so unique? It is made with organic Thai Jasmine rice and other locally sourced ingredients to make a nutritious snack. This product contains DHA-Omega 3, which is derived from tuna and provides additional DHA.
Special characteristics include:
• Oval square shape makes it easy to grab
• Made from organic Thai Jasmine rice (USDA certified)
• Omega 3, iron, and calcium;
• Vitamin B1, B2, and A; 
Apple Monkey Organic Rice Cracker is also Dairy-free and gluten-free. It also has no nuts and eggs, as well as MSG and preservatives are prohibited.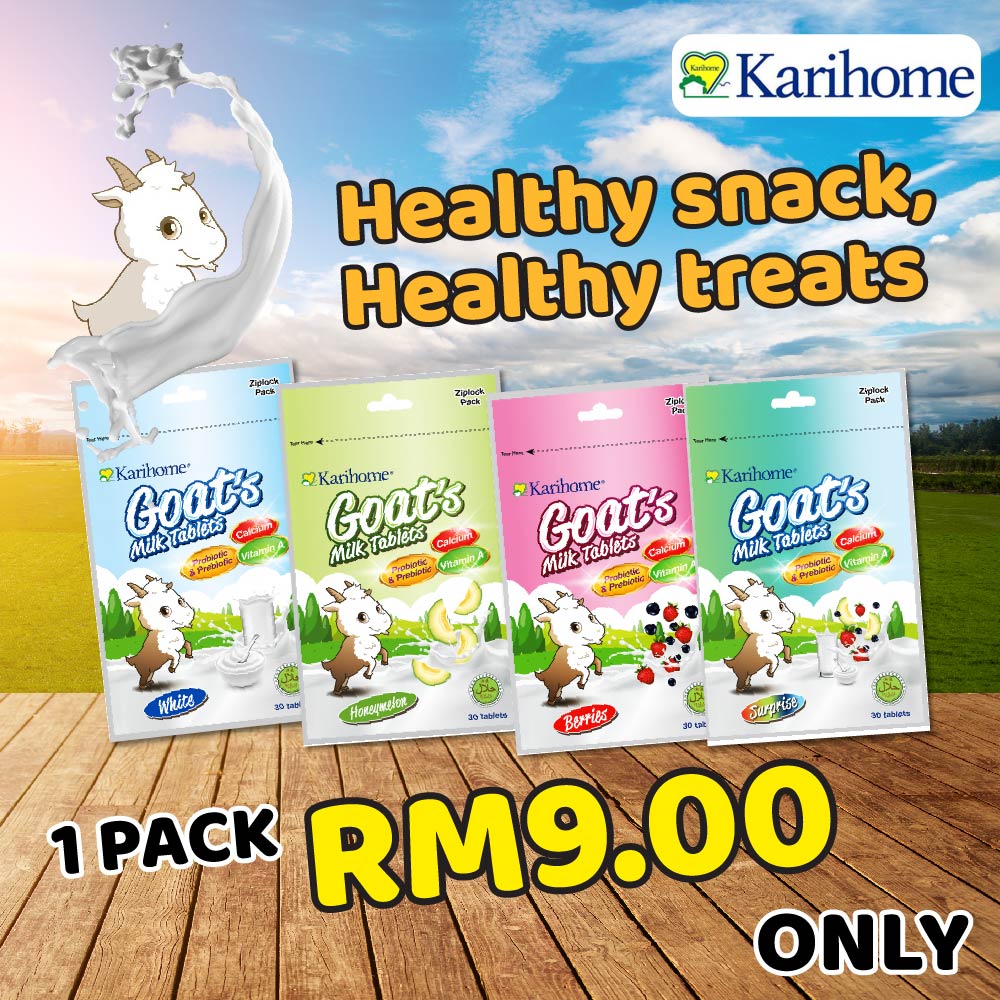 They're more than just sugary treats! Karihome Goat Milk Tablets are a nutritious snack for picky eaters. The natural nutrition found in goat milk is critical to a child's development. To keep your child's bones strong and eyes healthy, it's packed with calcium and vitamin A, both of which are good for them.
The Advantages of Goat's Milk Tablets
Karihome Goat's Milk Tablet contains a high concentration of calcium and vitamin A, making it an excellent choice for children. Calcium must be present in the diet in order for the bones to grow strong because it aids in the strengthening of the bone structure. At this young age, caution should be taken because children are still going through growth spurts, and Vitamin A is essential for the growth and development of the eyes as well as the rest of their bodies.
Karihome Goat's Milk Tablet also contains prebiotics and probiotics, which are beneficial to the digestive system. Beneficial bacteria, such as those found in probiotics, aid in digestion and the health of the digestive tract. The use of probiotics and prebiotics can help your child's digestive system function more efficiently. Karihome Goat's Milk Tablets are free of sucrose and are available in a variety of flavours, including yoghurt, strawberry, blueberry, and honeymelon, to suit your taste.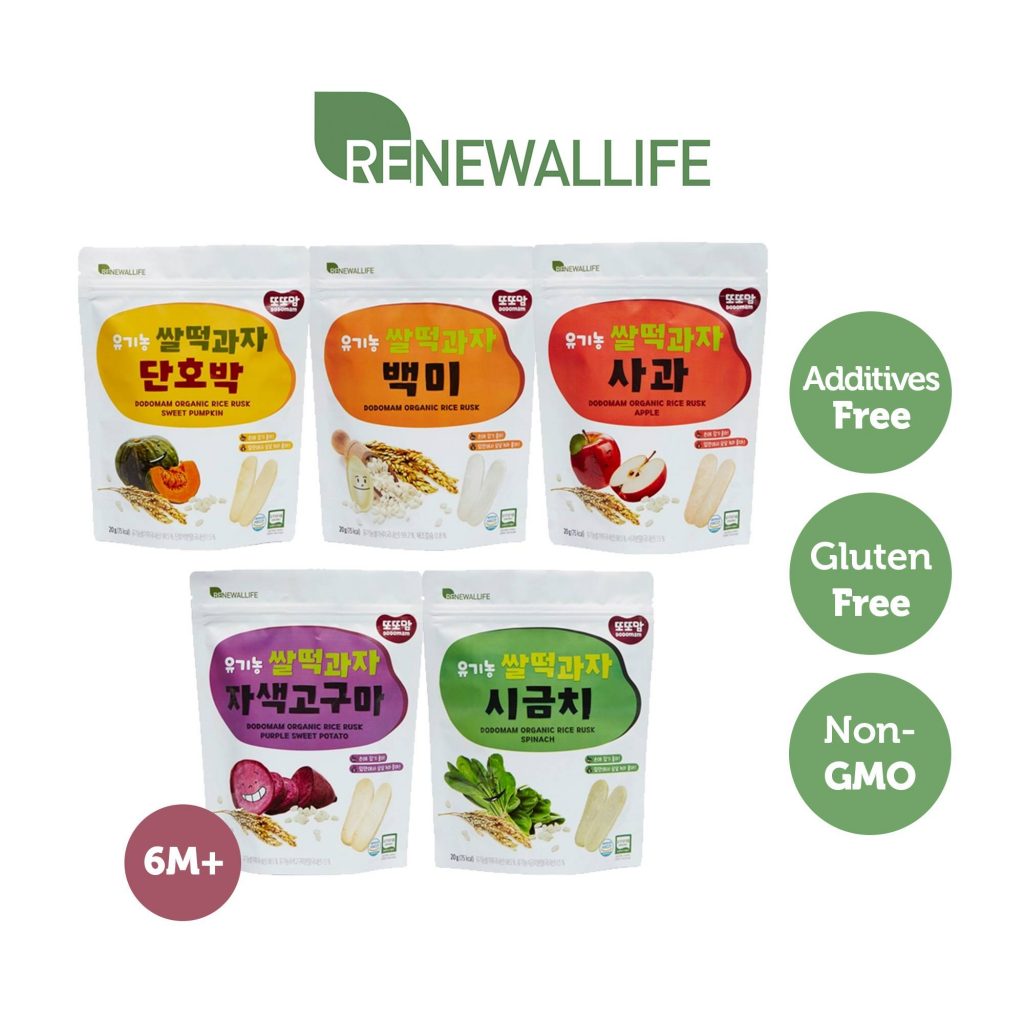 Parents can give their children DDODDOMAM organic baby snacks while also giving themselves a little peace of mind at the same time. The reason for this is as follows: DDODDOMAM snacks are made from rice grown in YangPyeongGun, which has been designated as Korea's environmentally-friendly agriculture zone, is free of pesticides, and produces high-quality products. YangPyeongGun is also known as the "Rice Bowl of Korea". Additionally, DDODDOMAM is manufactured in a state-of-the-art facility that has been certified as safe and sanitary and has a strict quality control programme!
DDODDOMAM Organic Baby Snack is an excellent option for babies six months and older because it is a healthy snack! It's also delectable and crunchy, making it a hit with all of the family. DDODDOMAM Organic Baby Snacks are a nutritious treat for your little one's taste buds are made with organic ingredients. Small enough for little hands to eat on their own, this organic snack is sure to elicit smiles and laughter from those around them. Along with the organic ingredients and HACCP and multi-ISO certifications, this product is manufactured in the United States is noteworthy. There are no chemical pesticides used on the grains that they eat because they are only organic.
The DDODDOMAM Organic Baby Snack is made using a specialised process that is unique to the company. It contains no oil and is low in calories due to the fact that only heat and pressure are used to prepare it. Furthermore, it is completely devoid of any additives of any kind (no artificial flavouring, colouring, artificial sweeteners, or preservatives). Additionally, the products are free of gluten and genetically modified organisms (GMOs). Their creation is the work of experts who understand how to make them easy to hold while still remaining crunchy and melting in your child's mouth. They're packaged in a resealable zip-top bag for convenient storage. It's the perfect snack for going shopping, dining out, or having on-the-go munchies.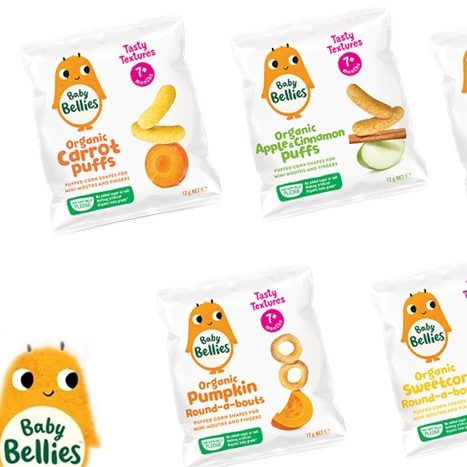 Little Bellies organic products for toddlers are part of the 'Toddlers in Training' range, created specifically for them. Providing these little ones with access to a whole new world of flavours and food experiences is one-way organic toddler foods contribute to this exciting time of exploration. A variety of snacks with more adventurous textures, shapes, and flavours are included in the Little Bellies TODDLER IN TRAINING range in order to help children make a smooth transition to toddlerhood.
Because there are so many different age-appropriate snacks available, your child will be able to enjoy them at a variety of different eating stages and times during the day. We believe Little Bellies Organic Snacks for Babies will assist babies and toddlers in learning about new foods, flavours, and textures, as well as discovering the pleasure of eating. It can also aid in the natural development of children who are beginning to eat solid foods.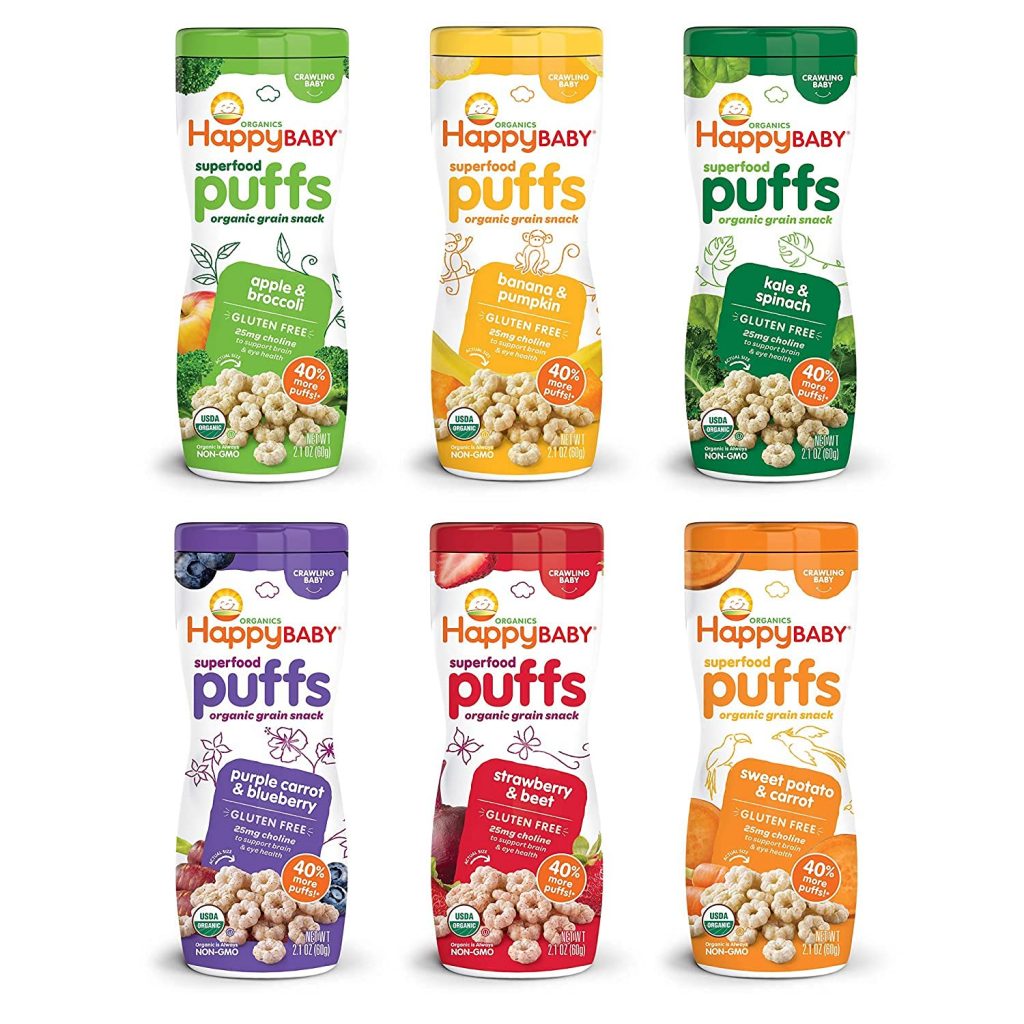 Parents, meet the unsung hero of your pantry; Happy Baby Puffs are a melt-in-mouth organic snack enriched with choline, which is essential for the health of the eyes and brain. They're a fantastic way for babies to learn how to eat on their own and to develop their sense of taste and texture at the same time. Happy Baby's Superfood Puffs and freeze-dried yoghurt snacks go beyond the boundaries of traditional baby food. It's possible that babies will be ready for our delectable snacks when they can crawl on their hands and knees without touching the ground.
Among the organic baby snacks from Happy Baby are organic baby food pouches, organic cereal, teething wafers, baby snacks, and a variety of other products that are specifically tailored to your child's nutritional requirements. Happy Baby's USDA organic product line includes ingredients that are free of genetically modified organisms (GMOs), grown without persistent toxic pesticides, and packaged in BPA, BPS, or phthalate-free packaging.
Bottom-line
Additionally, by providing your children with the appropriate snacks, you can encourage them to develop healthy snacking habits. Rather than allowing your baby or toddler to eat while crawling, playing, or sitting in a stroller, separate mealtimes from playtimes as much as you possibly can. Allowing your child to eat their snacks in front of the television is also not a good idea. The ability to concentrate on the food they are eating through healthy snacking may lead to them developing healthier eating habits in the future. Keep in mind that your children should be eating every three hours as recommended. You will find that your child looks forward to this time every day if you include it in your daily schedule.