The school holidays are just around the corner, and it's time to start planning for some fun-filled activities. If you're looking for a place to beat the heat and make a splash, look no further than SplashMania Water Park at Gamuda Cove! With its exciting 39 water slides and attractions, SplashMania is the perfect destination for a family day out.
Make a Splash This School Holiday: Dive into Fun at SplashMania Water Park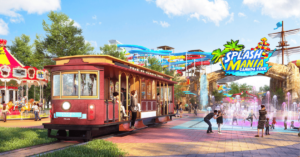 Location
Located in the heart of the city of Gamuda Cove, SplashMania Water Park is a popular destination for locals and tourists alike. The park is equipped with a wide range of water rides and attractions that cater to all ages, from toddlers to adults.
One of the most popular attractions at SplashMania is the Atlantis VR. Malaysia's very first VR water slide which will transport you to the Lost City of Atlantis! it's the perfect place to cool off and have some fun. You can relax on the beach-like shore or jump right in and ride the waves.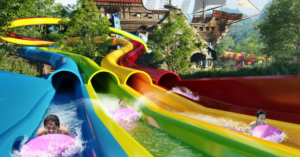 Adventurous Water Rides
For those who are feeling a little more adventurous, there are plenty of thrill rides to choose from. The water slides are a favourite among visitors, with options ranging from gentle slopes to heart-stopping drops. If you're looking for an adrenaline rush, be sure to try the Maniac Racers and the Plunge. Maniac Racers let you race with your friends on multi-flume slide that allows you to drift while looking at your friends. There is even a timer to calculate who is the fastest "racer" to reach the end. The plunge let you swoosh 6-storeys down a single flume at incredibly high speeds and plummet into the lagoon.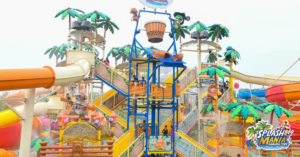 Kids Friendly Attraction
If you're traveling with young children, don't worry – there are plenty of attractions designed just for them. The kiddie pool is the perfect place for toddlers to splash around and have some fun in the water. There are also smaller slides and water features that are just the right size for little ones.
One of the best things about SplashMania Water Park is the staff. They are friendly, helpful, and always ready to assist with any questions or concerns you may have. They take safety seriously, and all the rides and attractions are regularly inspected to ensure that they are in good working order.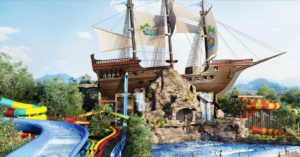 Picnic Area for Relax
When you need a break from the water, there are plenty of other activities to enjoy at SplashMania. There is a picnic area where you can relax and enjoy a snack. There are also plenty of food options, including a snack bar.
So if you're looking for a fun way to beat the heat this school holiday, head to SplashMania Water Park. With its exciting rides and attractions, friendly staff, and beautiful location, it's sure to be a day that you and your family will never forget.