Going out with a baby has become much less of a hassle now that you have one of the top 10 best baby strollers in Malaysia to help you! For first-time parents, choosing a stroller from among so many different brands might be overwhelming! In addition to meeting the baby's basic needs!
Travelling with your children to go shopping and explore can be a wonderful experience for both you and your children. In order to avoid being exhausted while carrying a baby in a carrier, a baby stroller can be quite helpful in certain situations. The sun and fresh air can also provide your youngster with vitamin D, which is beneficial to them. With so many choices on the market, how do you choose the best baby stroller in Malaysia? We've compiled the most recent list of the top 10 best baby strollers in Malaysia, offering high-quality options to fit your lifestyle and budget.
10 Best Baby Stroller in Malaysia
1. GRACO Modes TM Click Connect TM Stroller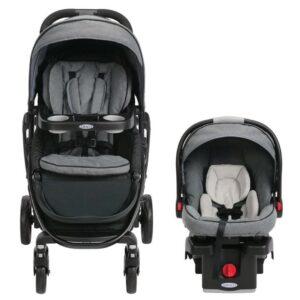 The GRACO Modes Click ConnectTM Stroller is the most adaptable stroller on the market today, and it is available in a variety of colours. With its three-in-one strollers, which include an infant car seat carrier, an infant stroller, and a toddler stroller with ten riding positions, all of which are interchangeable, you may use the same stroller as your child grows and develops.
Strollers of the Graco Modes Click Connect stroller are available in three different colour schemes: Grayson, Holt, and Gotham. Because each stroller has the same features, you can choose the colour that closely matches your preferences. When you turn the seat around, your baby will see things from a fresh viewpoint while still benefiting from the convenience of the stroller's manoeuvrability.
It offers a multi-position or flat recline, as well as a leg rest, to ensure your child's comfort while using the stroller. It is the best option if your child wants to nap sitting upright or lying down.
As a parent, your child's safety is always your top priority, which is why the fact that the Graco Modes Click Connect stroller comes with a convertible 5-point harness is such a welcome addition. It makes it easier to keep your youngster securely fastened into the stroller seat while out and about. Using the removable tray and extra-large basket storage, you can now rapidly supply your baby's essential needs without having to stop and think about it.
2. Baby Throne Advance Compact Travel Stroller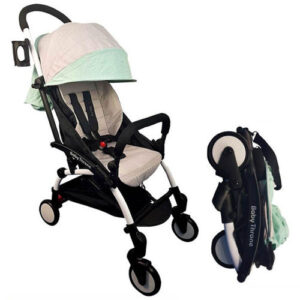 The Baby Throne Advance Compact Travel Stroller is lightweight and compact that is easy to manoeuvre.
As an added bonus, the Baby Throne Advance Compact Travel Stroller by ETINbaby is exceptionally lightweight while maintaining high levels of durability and quality! Customer feedback indicates that it is simple to handle and unfold! With a little bit of practice, you'll be able to fold! In fact, the dimensions are appropriate for a Perodua Viva! With an almost flat angled seat of 175°, the Baby Throne Advance Stroller is a fantastic stroller for a newborn baby. This is because it stimulates the cosiness of a bed. It is one of Malaysia's most popular baby strollers, with over 1,500 units having been sold on Shopee so far this year.
Furthermore, it is incredibly lightweight and has a simple folding and unfolding design, making it easier for you to transport the stroller wherever you want when it is not in use. Your kid will have a pleasant and smooth ride thanks to the soft drive system and front-wheel suspension. The changeable sunproof roof covering gives 30+ UV protection, ensuring that your kid is safe even in the brightest of sunlight.
Its three-position sun hood allows you to shelter your infant from the sun in the manner that is most comfortable for you and your family. When it rains, you won't have to worry about your infant being exposed to the elements because the sun hood is both water-resistant and breathable, ensuring their safety. The Baby Throne Advance Compact Travel Stroller is an excellent choice for couples who plan to travel with their infants.
3. Evenflo Waav Compact Stroller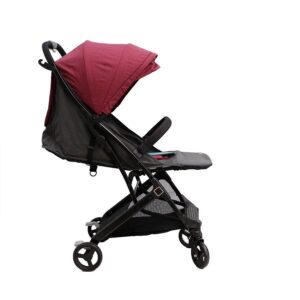 The sturdy but lightweight design The Evenflo Waav Compact Stroller is yet another infant stroller or travel stroller that can be folded down to the size of a piece of carry-on luggage. It is available in black or white. In addition, it can be folded with one hand!
Many users are surprised at how quickly the stroller can be folded away for storage. You can also fit a lot of stuff underneath the stroller's seat, despite its modest weight (it's lighter than the Bugaboo Bee) (e.g. diaper bag, shopping bags, etc.). Moreover, it is really simple to use! Even though one user expressed a desire for all of the wheels to rotate 360 degrees. Furthermore, the colour options that are accessible are all nicely neutral in tone.
While the stroller's cover is rather substantial, some users have complained that the lack of a window makes it difficult to keep an eye on their tiny companion while out and about! Also unfortunate is that your baby will grow out of everything far too rapidly! It will, however, take longer than it would with the Baby Throne Advance Compact Travel Stroller.
4. Sweet Heart Paris ST310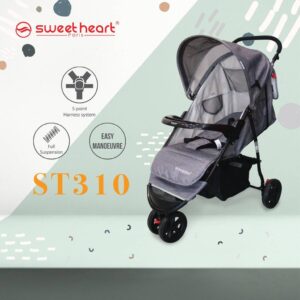 The Sweet Heart Paris ST310 is the ideal stroller for joggers because it features a suspension feature as well as a solid frame that can withstand all types of terrain and is easy to manoeuvre. Smooth 360-degree swivel wheels make it easy to handle on any terrain due to their smooth surface. When you're stopping at the supermarket, you'll appreciate the fact that it has a footbrake and a shopping basket.
Your kid may experience excessive perspiration if they are forced to sit in the stroller for an extended time. Its mesh viewing window and highly breathable material, on the other hand, keep your infant cool even in the hottest temperatures. Aside from that, the stroller's waterproofing and sunshade features keep your baby safe in all weather conditions as well.
5. Prego Airplane Cabin Size Newborn Stroller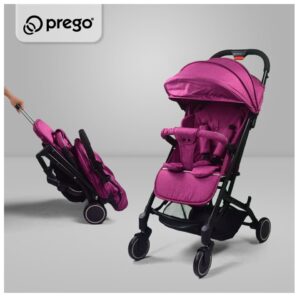 It is highly recommended to get the Prego Airplane Cabin Size Newborn Stroller. This is because it comes with a profusion of attachments. A waterproof storage bag for storing diapers is included in the package! Users quickly note that while the baby stroller is slightly larger than expected, it nevertheless fits in a cabin (acceptable dimensions vary between airlines).
They are particularly attracted to the stroller because of its travel-friendly style. It may be pulled along like a conventional piece of wheeled luggage when folded! Seating is provided for a considerable amount of space. However, when your child grows in height, you may want to consider adding an additional pillow (i.e. the backrest is short).
This stroller will be easy to manoeuvre for parents above six feet tall. The front wheels can rotate 360 degrees, and it's also quite durable, thanks to the 5-point harness.
6. Alpha Living Baby Car Seat Stroller 4 In 1 Transformable Travel System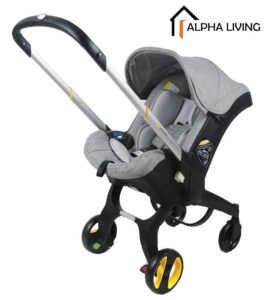 If the increased weight and greater price aren't a concern for you, the Alpha Living Baby Car Seat Stroller 4 in 1 Transformable Travel System allows you to rapidly transform an infant car seat into a stroller. Consider if you need a baby car seat and whether you can justify the expense of purchasing one. Until your child outgrows it (70cm, 13 kg), it will be comfy for them.
Babies have no issue falling asleep in this while riding in the car! While it is a bit bulky for everyday usage as a baby carrier, customers have noted that it is a good investment. You must strengthen your upper body if you intend to get this baby stroller. Without the baby, the weight is immediately apparent! Despite being 7kg, the baby stroller is of high quality!
However, for the price, you'd expect the wheels to be equipped with suspension (which they are not). On the other hand, the front wheels have the ability to spin 360 degrees. If you absolutely must have a convertible baby stroller, the Alpha Living Baby Car Seat Stroller 4 in 1 Transformable Travel System isn't too shabby. Still, it's definitely too heavy for most moms to carry around on a daily basis!
7. Bugaboo Fox2 Comfort Stroller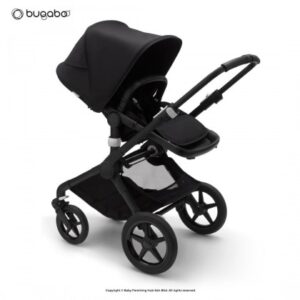 With the leather look, you may take your baby for a stroll in comfort and sophistication. The Bugaboo Fox2 Comfort Stroller is the most luxurious stroller available in Malaysia. Your kid will be protected from the sun by the sun canopy and peekaboo window, which will help enhance interactions and provide additional airflow. Your kid will have a comfortable ride and be protected from any bumps owing to the U-shaped adjustable ergonomic seat that conforms to the spinal curvature and the joint suspension system in this car seat for babies.
Several travel-friendly modes are available on the stroller, including an anti-pressure bassinet mode, a two-baby-designed board mode, a windproof footmuff mode, and a car seat mode. Because of its huge capacity basket (38L) and bassinet storage pocket, you can free up your hands while still having easy access to your important stuff. With the highchair mode, you can now feed your baby without having to move from your chair.
8. U-Baby PRO UW-ST Y1 Compact Stroller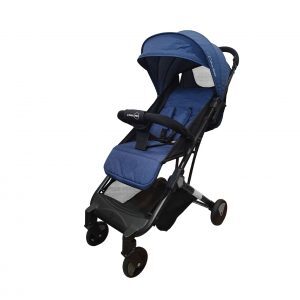 The U-Baby PRO UW-ST Y1 Compact Stroller is available in three colours: red, grey, and blue. It is designed to be erected in two seconds with one hand and folded up when not in use. The construction quality is quite good for a device that costs less than RM300! With a mesh basket that can be removed from underneath! This method is recommended until your child is approximately 4-5 years old.
According to user reviews, the product quality is excellent and on par with strollers that cost far more money. It's also the size of a cabin, and having it delivered eliminates the need for transportation (you can roll it along instead). Even after reviewing the manual, some users are unable to put the device together correctly. This is especially true when it comes to the installation of the rear wheels. However, the seller may give an installation video that is particular to the wheels!
If you're concerned about the warranty, rest assured that this baby stroller is backed by a one-year guarantee. The Evenflo Waav Compact Stroller (up to 25kg) will support your youngster for a significantly longer time. There is also a window and mesh sides on this baby stroller, making it extremely airy!
As a result, bringing this stroller along for touring or walks in the park may be a fantastic concept! Useful for other purposes as well as for suspension wheels.
9. Mamakiddies Reverso Reversible 2 In 1 Travel System Stroller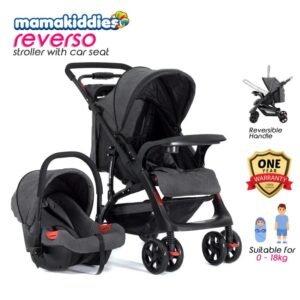 Designed to be foldable, the Mamakiddies Reverso Reversible 2 in 1 Travel System Stroller is available in three colours: matte black, red, and grey. Even with only one hand, it's possible to be folded. There are several storage possibilities and a removable canopy with a peekaboo window. It is undoubtedly heavy (but still manageable), but it has many features. It comes with an attached hood that can be removed and replaced with a mosquito net.
The most prominent features are its secondary capabilities as a car seat (not ISOFIX-compatible) and a carrier for small children (2.4kg). And that the handle may be turned in either direction! There are three positions available, one of which is a flat position for newborn babies! However, when it comes to assembly, you'll be on your own for the most part! The manual is almost entirely ineffective.
On the other hand, most users have a slight issue putting the unit together, and the overall build quality is adequate given the low price. Although it is not cabin-sized, the stroller may be transported in the boot of a Myvi vehicle! In terms of weight, the stroller weighs 10.5kg and can hold toddlers weighing 13-15kg.
Aside from that, the cushion is pretty substantial in thickness. On the other hand, some customers have complained that it is overly stiff and thin. Polyester and linen are used in the construction of the garment. Those who are interested in convertible baby strollers should take the following factors into consideration:
When compared to the Mamakiddies Reverso Reversible 2 in 1 Travel System Stroller System, the Alpha Living Baby Car Seat Stroller 4 in 1 Transformable Travel System will add a significant amount of weight (about 3 kg). It is, on the other hand, substantially less expensive and significantly more durable! The fact that the warranty is extended is an extra plus!
10. Sweet Cherry SCR16 Lightweight & Compact Baby Stroller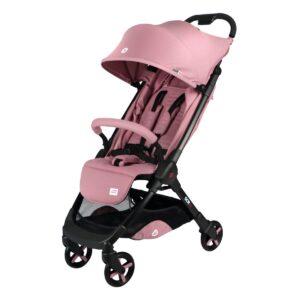 Sweet Cherry's SCR16 Lightweight and Compact Baby Strollers comply with the European safety standard for pushchairs and prams and are therefore suitable for usage. Consider it if you're looking for a lightweight, tiny, and durable baby stroller that can be folded and unfolded in a matter of seconds.
Customer feedback indicates that the quality is outstanding. It's also small and lightweight, making it easy to transport. As well as being transportable, even in a small car. In addition, it takes up very little space in the trunk of the vehicle! It is appropriate for children from birth to three years of age. Instead of being able to face both directions like the Mamakiddies Reverso Reversible 2 In 1 Travel System Stroller, the Sweet Cherry SCR16 Lightweight & Compact Baby Stroller can only face one way! If you prefer a thin portable baby stroller to a bulky convertible stroller, consumers have no hesitation in recommending this stroller to others.
If you prefer a more extended warranty, the Evenflo Waav Compact Stroller is a good choice. The Sweet Cherry SCR16 Lightweight & Compact Baby Stroller is a more substantial stroller (when fully assembled), despite being heavier and thicker when folded.
As you can see from the list above, the prices of the top ten best baby strollers in Malaysia range from RM200 to RM2,000! We also have a selection of strollers that stand out from the crowd regarding price, lightweight, safety, and user-friendliness in their respective categories!