Buying your first stroller can be difficult because you have no prior experience travelling and commuting with a baby. In this review, we will tell you which is the best baby stroller between Bugaboo Ant and Baby Throne Advance strollers, as well as their pros and cons, so you can decide which baby stroller is best for your needs.
Baby Throne Vs Bugaboo
Baby Throne is well-known for its lightweight, durable, and simple-to-fold strollers. It is also well-known for its one-of-a-kind designs, which are available in a variety of stylish yet functional finishes. The Baby Throne Malaysia offers three distinct collections: the Holiday Collection, the Metro Collection, and the City-Best Collection. There are four types of strollers in these collections: Umbrella Strolller, Mini Cosmopolitan & S-Line, Vantage Mio Fix & Mio UpFix, and CitiGo Single Jogger.
While Bugaboo is a pram, stroller, and pushchair manufacturer that has been in business since 1994. Its headquarters are in Amsterdam. Bugaboo Stroller Malaysia offers five different stroller models: Cameleon, Buffalo, Donkey, Bee5, and Limited Edition Collection. Carrycot, seat unit, and chassis are the three sub-categories of the various types.
Baby Throne Advance stroller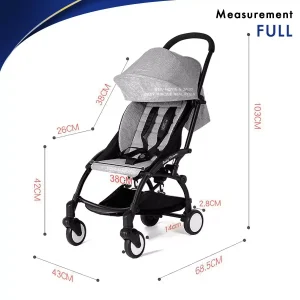 The Baby Throne Advance is the best low-cost travel stroller. It is ideal for parents who have to commute with their babies on a regular basis.
The Baby Throne Advance Baby Stroller has the following features:
Pushing, steering, folding, and unfolding are all simple one-handed operations.
PU rubber tyres with anti-shock system on the front wheels
Detachable bottle holder, front bar, front cover, mosquito net, and shoulder strap
For newborns, it is possible to lay down at 175 degrees.
The stroller weighs 5.8kg.
Support for a baby/toddler weighing up to 15kg
The sunroof is movable.
It folds up into a very small package that measures only 44 x 22 x 50 cm. It even has a shoulder strap so you can carry it like a sling bag.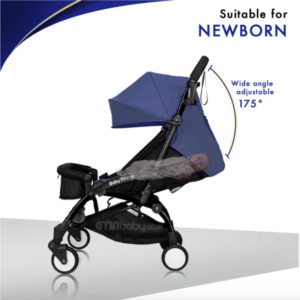 The shoulder strap, on the other hand, is very basic and does not provide any kind of cushioning. A weight of nearly 6kg on your shoulders can be excruciatingly painful after a while. Last but not least, the sellers only offer a one-month warranty on manufacturer defects for the stroller. So, once you've received it, make sure you give it a thorough test run. Overall, the Baby Throne Advance represents excellent value for money, as comparable strollers can cost thousands of ringgit.
Why Choose Baby Throne Advance Stroller
Baby Throne Advance is the best baby stroller for the money on the market today because newborn babies sleep for 16 to 17 hours a day. A stroller that allows them to lie down is essential. The stroller features a nearly flat 175° angle that mimics the comfort of sleeping on a mattress. To ensure your baby's comfort, you can now carry them around in a sling-style carrier.
When it's hot outside, the baby stroller's sunroof comes in handy. To make sure your baby stays safe even when out in the sun, it has a UV protection rating of 30+. Even if it rains, you won't have to worry about the sunroof.
Lightweight and manoeuvrable, the Baby Throne Advance Stroller is an excellent option for families on the go. It's light and folds up small enough to fit in your car's trunk, weighing only 5.8 kilogrammes when empty. The stroller's Soft Drive system makes it a breeze to manoeuvre, and the front wheel of the stroller is suspended and shock-absorbing. As a result, your baby is less likely to be disturbed by minor bumps. This stroller has a maximum weight capacity of 25 kilogrammes, which means you won't have to buy a new stroller as your baby grows.
Bugaboo Ant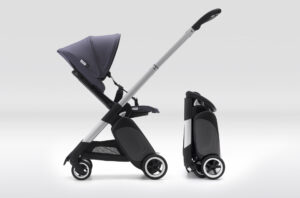 The Bugaboo Ant is a cool, modern pushchair stroller that stands out from the crowd. It is unusual to come across a compact stroller with a reversible seat. The Bugaboo Ant has a few key selling points: it's small, it has a reversible seat, adjustable handle height, and it can be used with a buggy board accessory. When folded, it can be pushed like a suitcase. It does, however, have a few drawbacks. The stroller is small and narrow, which is ideal if you frequently have to manoeuvre it through narrow streets. However, your children may outgrow it quickly.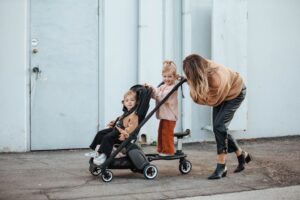 Bugaboo Ant features:
Suitable for newborns
Suitable for up to 22kg
Stroller weight 7.2kg
Two-way facing, reversible seat
Compact fold
Adjustable seat
Stylish design
Reclinable seat
Adjustable handlebar height, two-position
The Bugaboo Ant is an extraordinary pushchair and seat. The reversible and easily adjustable seat allows your child to face you or the world in a single motion. It folds down to an extremely compact size, making it easy to store out of sight, park in tight spaces, or fit in an overhead locker where a bag would normally be kept. It's incredibly sturdy and easy to push for its small size and wheels. Thanks to the advanced suspension packed into its nimble wheels, you can take uninterrupted naps while on the go. Whether you need to bundle up or brave the sun, our collection of cool Ant accessories has you covered.
Why choose Bugaboo Ant?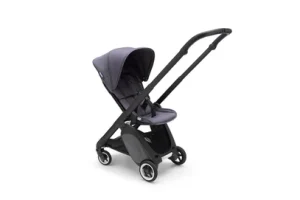 Built to Last
Replaceable parts, washable fabrics, and puncture-resistant, all-terrain wheels ensure that you will enjoy your stroller for a long time and then some.
Peace of Mind
Each stroller has been meticulously tested, is built to last, and meets or exceeds every industry safety and quality standard.
Unbeatable comfort
Folding. storing, pushing Bugaboo Stroller is just as easy as falling asleep in them.
The Bugaboo Ant is definitely on the expensive side but I think it is worth it for those who want ultimate flexibility and don't want to compromise on style or size.
A baby stroller makes it very easy to go out with your baby. A good baby stroller should be comfortable for your child and easy to navigate for the person pushing it. You could previously only buy a baby stroller in Malaysia from a retail store, but now you can buy them online for the ultimate convenience and even at a discount!
We hope that our guide will assist you in purchasing the best baby stroller for your child. If you found this helpful, please share it with your friends. We will be releasing more buying guides soon!