Reading to your children is not only a wonderful bonding experience but it also has numerous benefits for their language and literacy development. From improved vocabulary to enhanced imagination, reading aloud can help your child in many ways. In this article, we will explore the benefits of reading aloud and how you can make the most of this activity with your child.
Benefits of Reading Aloud to Your Children
Improving Vocabulary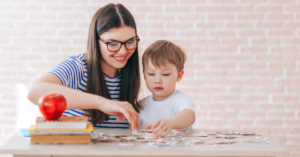 When you read to your child, they are exposed to a variety of words and language structures that they may not encounter in everyday conversation. This exposure can help to expand their vocabulary and improve their understanding of language. As your child's vocabulary expands, they will be better equipped to express themselves and understand others.
Developing Listening Skills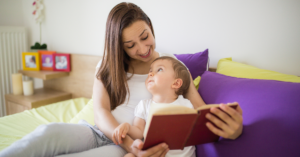 Reading aloud requires children to listen carefully, follow along with the story, and process information. These skills are important for developing strong communication and comprehension abilities. By listening to stories, children learn to concentrate, focus, and absorb information, which are vital skills for academic success.
Encouraging Imagination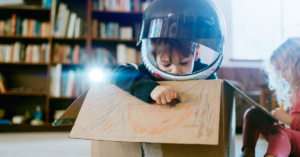 Reading stories aloud can transport your child to new worlds and introduce them to characters and situations they may never have imagined. This can spark their imagination and creativity, helping them to develop a love for learning and storytelling. By encouraging your child to imagine and think creatively, you are helping them to develop their cognitive skills, problem-solving abilities, and critical thinking skills.
Building Literacy Skills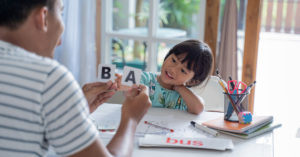 Reading aloud can help your child to develop literacy skills such as phonemic awareness, letter recognition, and comprehension. These skills are essential for reading and writing success later on. When you read to your child, they begin to recognize the sounds and patterns of language, which helps them to understand how words are formed and pronounced. This, in turn, helps them to recognize letters and words and eventually read and write.
Strengthening Bonds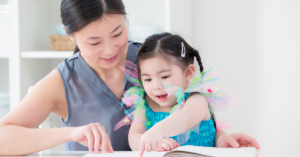 Reading aloud is a wonderful bonding experience for parents and children. It allows for quality time together and creates a positive association with books and learning. When you read to your child, you are showing them that you value their time and attention. This can help to build a strong relationship between you and your child, which can last a lifetime.
Tips for Reading Aloud with Your Child
Start early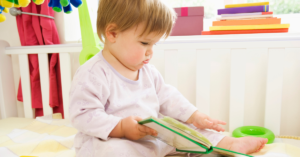 Hearing the sound of your voice and being exposed to language will benefit the child from infancy. Reading to your child from a young age can help to develop their language and listening skills and build a love for books and learning. Choose books with simple text and bright, colorful pictures to engage your child's attention.
Choose age-appropriate books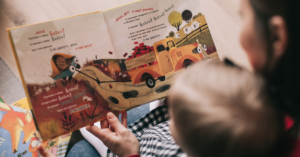 Select books that are appropriate for your child's age and interests. For younger children, board books with simple stories and bright illustrations are ideal. As your child grows, you can introduce longer stories with more complex plots and characters.
Get creative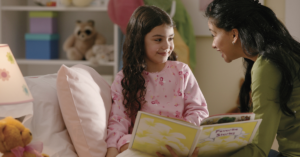 Use different voices for characters, ask questions about the story, and make connections to your child's experiences. By engaging your child in the story, you are encouraging their participation and helping them to make connections between the story and their own life experiences.
Be consistent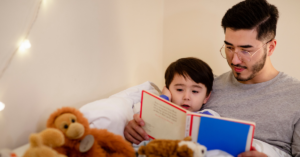 Make reading aloud a daily habit to establish a routine and create a positive association with books. Choose a time when you and your child are relaxed and have time to enjoy the story together. Bedtime is a popular time for reading aloud, but you can also incorporate reading into your daily routine by reading during mealtime or while waiting in line at the grocery store.
Conclusion
In conclusion, reading aloud to your children is an activity that can have a positive impact on their language and literacy development. By exposing them to a variety of words and language structures, developing their listening skills, encouraging their imagination, building their literacy skills, and strengthening bonds, you are setting them up for academic and social success.
Remember to start early, choose age-appropriate books, get creative, and be consistent in your reading habits. Reading aloud is a simple but powerful way to enhance your child's language and literacy skills, while also creating memories that will last a lifetime.