Are you wondering whether cow's milk is better than goat's milk? Or is the consumption of cow's milk causing digestive difficulty? The experts will answer all your queries in this article. This article contains all the required information to choose the right type of milk formula for your young ones.
Karihome, established in 1991, is a leading producer of goat milk formula. It is precisely manufactured as a children's formula enriched with nutrients and growth boosters to improve digestion and strengthen immunity. It is the first goat milk formula company that conducted research and trials approved by EFSA (European Food Safety Authority).
Karihome is Malaysia's leading goat milk brand, with a dominant position in the market for over a decade. They are introducing an improved version of their formula with extensive research and development in June 2022.

Difference between Goat and Cow's Milk
Before discussing the new and improved formula, let's discuss the benefits of using goat milk. Compared to cow's milk formula, goat's milk is easier to digest as it contains less alpha-s1 casein, a type of protein prone to clumping and resistant to enzymes breakdown. It has smaller fat and finer protein molecular structures, making it easily digestible.
Did you know that goat's milk fat is associated with improved gut health leading to better immunity and decreasing mild allergen attacks? Goat's milk also has a higher percentage of essential fatty acids such as linoleic and arachidonic acids that help digestion while boosting immunity and growth. It also contains natural nucleotides and sialic acid that helps in reducing sickness occurrence and duration.
Still confused? A comparison between the concentration of the nutrients in both types of milk indicates that goat milk has:
13% more calcium
25% more vitamin B6
47% more vitamin A
134% more potassium
27% more selenium compared to cow's milk.
Added Benefits in Karihome's Upgraded Formula
Based on all this information, it is safe to say that goat's milk is more beneficial. As Karihome is a leading goat milk producer, it has further improved its goat milk formula. The new and improved formula contains ingredients that can bring a healthy transformation in your young one. These changes include: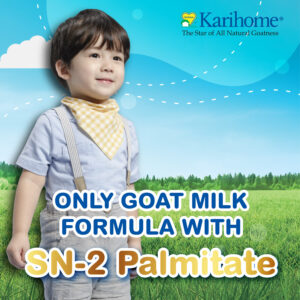 1.      SN-2 Palmitate
The new and improved formula contains SN-2 palmitate. SN-2 palmitate is a structured triglyceride, usually obtained through an enzymatic reaction on vegetable oils. It is used to imitate the structure and constitution of children's milk formula found in nature.
Karihome is the only producer in Malaysia that enriches its children's goat milk formula with SN-2 palmitate. It is the signature ingredient in the new formulation.
As proved by thousands of researchers, the inclusion of SN-2 palmitate in a formula will support growth and development. In addition, followed by many other benefits such as increased fat absorption and calcium retention, decreased constipation and calcium soaps formation, improved digestion, reduced crying, fussiness, and colic behavior, better sleep quality, stronger immunity, and support in brain and motor skills development.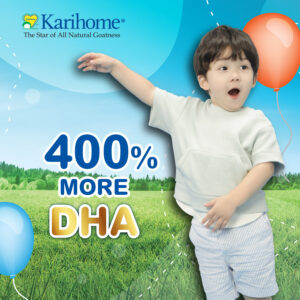 2.      400% more DHA
DHA or docosahexaenoic acid is an omega-3 fatty acid essential structural component in the human brain, skin, retina, and cerebral cortex. Therefore, it is vital for brain development during the early years. The new formula contains three times more DHA.
It also helps improve heart health, maintain good eyesight, improve cognitive learning capability, and reduce inflammation responses.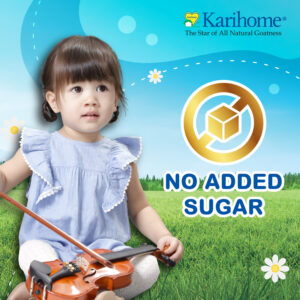 3.      No Added Sweetener
This new formulation does not contain any added sugar besides lactose. Lactose is naturally present in goat's milk. Most milk formulas available in the Malaysian market contain added sugar under a pseudo name: glucose, corn syrup, fructose, sucrose, or maltodextrin. Regular consumption of sweeteners in the early years can lead to detrimental effects on development and growth, leading to increased chances of obesity, type 2 diabetes, dental issues, and even cardiovascular problems.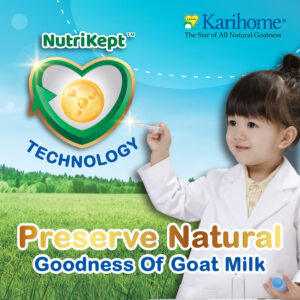 4.      Made with NutriKept™ Technology
Karihome believes that nature is best, aligning all of its processes as close to nature as possible. Karihome's products are made with NutriKept™ Technology. NutriKept™ Technology uses a single high heating process during manufacturing to preserve the natural nutrients. Unlike most formulas manufactured with at least a two-step heating process causing a higher percentage of nutrient loss.
As cow's milk is difficult to digest, most milk formula manufacturers use reduced-fat dairy to ease digestion and replace natural milk fat with vegetable oils.
However, Karihome uses whole, unskimmed goat milk to manufacture the formula with a smaller molecular structure making it easy to digest.
Benefits of Using Karihome
New Zealand provides the best homeland for breeding goats in a clean and green environment. It also ensures high quality and 100% ethically sourced milk. Karihome is a brand trusted by parents all over Malaysia. Their goat milk is sourced from 72 farmers in New Zealand.
The manufacturing processes are performed intrinsically with care and utmost hygiene conditions, with NutriKept™ Technology to preserve milk's natural goodness. The milk is supplied straight from the farm to your doorstep.
To Wrap Things Up!
Goat's milk can be regarded as a superfood with nourishing and immunity-boosting qualities. Karihome's goat milk formula is the best choice for parents to provide to their growing young ones. Goat's milk has countless benefits over cow's milk as it is lighter and easily digestible.
Karihome is the only goat milk formula producer in Malaysia that utilizes NutriKept™ Technology to lock in natural nutrients.
Are you still Waiting? Switch to goat milk now for a happy and healthy life.