A baby carrier is one of the best purchases you can make for both your baby and yourself. They come in handy when the infant is upset or when the dad wants to wear the baby during a zoo visit. Wraps, slings, and the basic carrier are all types of baby carriers. The best carrier for him is determined by his needs, as well as how and for how long he intends to use it.
What are the Types of Carriers?
Most parents swear that baby carriers are a lifesaver, so you really can't go wrong adding one to your registry. Baby carriers come in four basic styles:
Wraps: A super-long piece of stretchy fabric you configure and tie around your body, usually over your shoulders and around your midsection, to create a carrier. Wraps mimic the feel of the womb and are especially loved by newborns. Most come in one-size-fits-all and easily adjust to different body types, but can take a bit of practice to get the hang of.
Slings: A wide piece of fabric that goes over one shoulder and across your torso. Slings create a pouch for your baby to sit in and are generally simple to use. They're also good for hotter climates as they are generally fairly lightweight. Slings don't distribute weight evenly, however, so they may not be comfortable for long-term wear.
Hybrids: Hybrid carriers are combination carriers that provide the best of two different types of carriers: a wrap and a soft structured carrier. Parents like hybrids because they are generally very easy to use and comfortable to wear, however, it can sometimes be tricky to find the right fit on every body type.
Structured Carriers: Also called Soft Structured Carriers or SSCs, structured carriers are worn like a backpack with straps over the shoulder and a padded carrying "pack" that can be placed on your chest or back. SSCs are usually designed with older babies in mind but many can now be worn with younger babies, too. They offer lots of support and carry options (front, back, hip, etc.) and many can be used well through toddlerhood.
Based on his and the baby's needs, here are the finest baby carriers for dad.
1. Boba Baby Carrier X
Boba Baby Carrier X is a blessing to own. It will ensure your child's comfort and yours too. You can adjust it to any body size or shape. Anyone can wear it and carry the child with ease. It can also support up to 3.5 – 20kg. This means that it is usable for years. You can carry your infant. Or your toddler and can adjust accordingly. The product is adjustable so your child can sit in whatever position is perfect for them. It also has padded leg openings and extensions. That supports your child's weight. Boba Baby Carrier X is certified to be hip-healthy. By the reclaimed International Hip Dysplasia Institute. And you do not need to go the extra mile to keep it clean. It is machine washable.
2. Ergobaby Four position 360 Baby Carrier Cool Air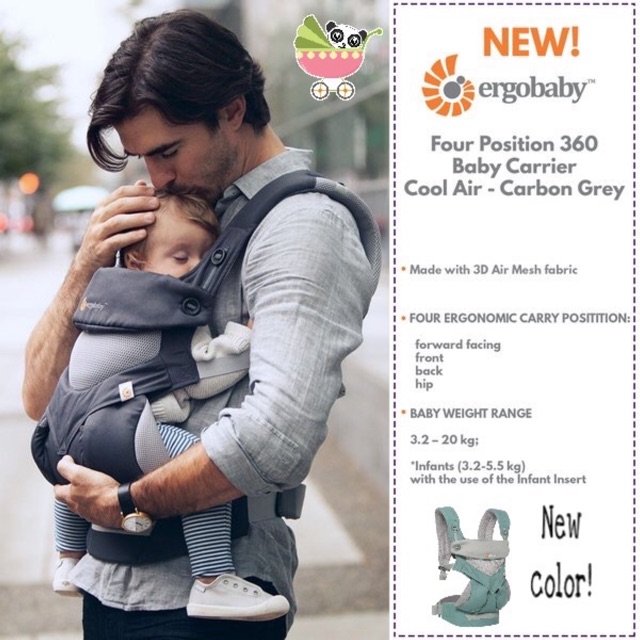 The Ergobaby baby carrier is an excellent option for parents and children when traveling, walking, and so on. This Ergobaby baby carrier has won several awards. It has large pockets that help keep essentials and other items organized while the parents are busy and on the go. It allows the child to sit in a variety of positions, including front-facing, back-facing, inward, and hip carry. The fabric used in the manufacture of this ergonomically seated carrier for the child is 100 percent cotton, which provides maximum comfort to both the child and the parents. The waist belt and lumber support provide enough strength to the hips and head or body as needed.
This Ergobaby baby carrier can be easily adjusted to fit any body type. The Ergobaby baby carrier includes a multifunctional hood that provides privacy, peaceful breastfeeding, and sun protection. It can be washed in a washing machine with cold water and detergent. This Ergobaby baby carrier is ideal for parents who spend the majority of their time traveling and moving their children.
3. Sweet Cherry Hipster Seat Carrier
Sweet Cherry is a new and rapidly expanding brand. This Sweet Cherry brand's baby carriers are both lightweight and durable. The Sweet Cherry baby carrier's durability makes it the ideal travel companion for babies. It allows babies to sit in a variety of positions. The shoulder straps are detachable and can be adjusted to meet your specific needs. It is made up of a hip carrier and a shoulder strap. It folds up and can be stored in a small space when not in use. It is suitable for babies aged 4 to 36 months. It can transport a baby weighing between 3.5 and 19 kg. It also has an excellent feature that enables the baby to sit without assistance.
The design of this Sweet Cherry baby carrier is such that it has no effect on bone shape, resulting in no posture damage. It does not make you tired. The purpose of the removable shoulder straps is to provide the baby with enough comfort and a face-out position to enjoy the view of the outside world. It also includes a safe release system. It has four carrying positions: face-in, face-out, side-facing, and parent-facing. The fabric used in the manufacturing is soft and allows for fresh air ventilation.
4. Chicco Ultrasoft Baby Carrier
The Chicco ultrasoft baby carrier is the best option for new parents and newborn babies. The brand is named after the name of the producer's son. The design is intended to provide the parents and baby with superior comfort and support. It can carry a baby from 0 to 36 months, so you can use it for your toddler as well. It can easily support weights of up to 11kg. The best thing about this Chicco baby carrier is that it has two functions in one. The face-out feature allows the baby to see the beauty of the outside world and explore nature, whereas the face-in feature allows the baby to sleep with his or her face towards the mother or father's face. The lining is extremely soft and cozy. The extra-secure, padded straps are there to keep the baby safe.
The parents can adjust the height of this Chicco ultrasoft baby carrier using lumber support. Extra comfort and the exclusive cuddle pocket are also present for maximum comfort. It is ventilated and breathable. It is easily washable. It is a multipurpose baby carrier. Polyester was used in the production of this Chicco baby carrier. It comes with a warranty from a local supplier.
The great features of this Chicco baby carrier make it an ideal choice for parents and babies who want to keep their smiles secure.
5. Aiebao Quality Baby Hipseat Carrier
The quality of the Aeibao hip seat baby carrier is excellent. It's a bright red. Both the hip seat and the carrier straps are adjustable. It's extremely convenient and comfortable. The hip seat and carrier set straps can be separated. The fabric used to make this Aiebao baby carrier is breathable and soft. The design is an enthralling and innovative patent. It can support weights ranging from 3.5 to 15 kg.
The Aiebao baby carrier is safe for parents and children. You do not need to be concerned because the carrier straps are securely fastened on the shoulders. Your child will be more comfortable if you use a hip seat or a waist carrier.
A waist strap is another comfortable feature that, when combined with a sleeping hood, allows your child to sleep soundly. This sleeping hood, along with the adjustable straps, ensures the safety of the child. This Aiebao baby carrier could be an excellent substitute for a baby stroller. The price is reasonable, and the features are excellent. Purchase this Aiebao product to make your child happy and your own body free and untired.
Malaysia is brimming with products that cater to the needs and convenience of new fathers and the market for products similar to baby carriers is thriving. Fathers, should not be concerned about their babies when they are not in their immediate vicinity. We hope that our list of the top 5 best baby carriers Malaysia will assist you in selecting the right product for you and your child that not only provides comfort but is also worth every penny you spend on the product.