Introducing Ostricare, a premium milk powder meticulously crafted from the purest cow's milk sourced directly from the lush pastures of France. This exceptional formula harnesses the goodness of nature to provide your child with an unrivaled blend of nourishment, protection, and energy, allowing them to explore the world around them fearlessly.
What sets Ostricare apart is its unique composition, fortified with two exceptional ingredients: nucleotides and BB-12® probiotics. Supported by extensive clinical studies, these remarkable components work in tandem to bolster your child's innate defenses, giving them the best possible start in life.
Let's delve into the wonders of Ostricare's Key Nutrients!
Nucleotides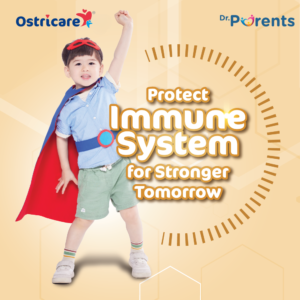 Scientifically proven to strengthen the immune system, these vital building blocks enhance the body's natural defence mechanisms. By fortifying your child's immunity, Ostricare ensures they are better equipped to combat potential health threats, allowing them to thrive in their daily adventures.
BB-12® Probiotics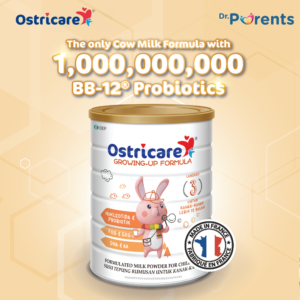 Ostricare is the only cow milk formula that contains 1 billion BB-12 probiotics. BB-12® probiotic effectively boosts the body's natural immunity against respiratory tract infections. Moreover, BB-12 probiotics also promote superior sleep quality for your little one, ensuring they wake up refreshed and ready to conquer each day.
The quality of BB-12® probiotics is evident through its certifications. In Europe, Bifidobacterium animalis, the strain behind BB-12, has been granted the prestigious Qualified Presumption of Safety (QPS) status by the European Food Safety Authority (EFSA) since 2007, demonstrating its remarkable safety profile at the species level. Additionally, BB-12® probiotics have received the highly regarded Generally Recognized As Safe (GRAS) status by the Food and Drug Administration (FDA) in the United States, indicating their suitability for children and the general population.
Ostricare goes above and beyond by offering complete nutrition to provide comprehensive support for your child's growth and development.
Comprehensive Combination of 32 Nutrients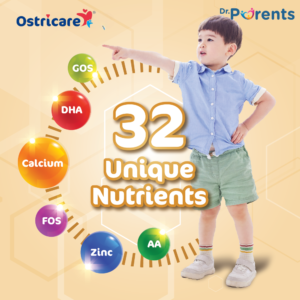 Ostricare recognizes your child's dynamic and varied needs, which is why Ostricare cow milk powder offers a comprehensive combination of 32 Key nutrients. With Ostricare, you can be confident that your child will receive the essential nourishment necessary to support their holistic growth and development, empowering them to unlock their maximum potential.
FOS & GOS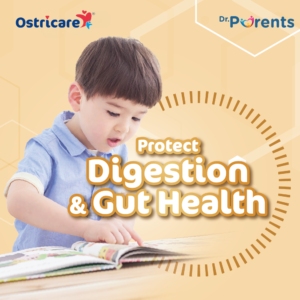 Ostricare recognizes the importance of a healthy digestive system for your child's well-being. With the inclusion of FOS and GOS, this formula aids in improving digestion and absorption while also maintaining a healthy gut. By supporting their digestive health, Ostricare ensures that your child can effectively utilize their nutrients, promoting optimal growth and vitality.
DHA and AA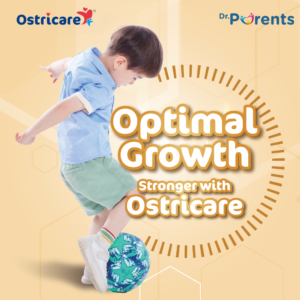 Ostricare is committed to nurturing your child's cognitive abilities. This formula contains DHA and AA, essential fatty acids that promote faster learning and unlock your child's full learning potential. By fueling their cognitive development, Ostricare empowers your child to grasp new concepts, explore their creativity, and thrive academically.
Give your child Ostricare cow milk formula, a revolutionary milk powder designed to provide them with unmatched protection, care, and energy. With its scientifically supported ingredients and unparalleled formulation, Ostricare offers peace of mind to parents, knowing that their little ones are receiving the best nourishment.
Join Ostricare's Giveaway Contest & Win Luxury Handbag from France !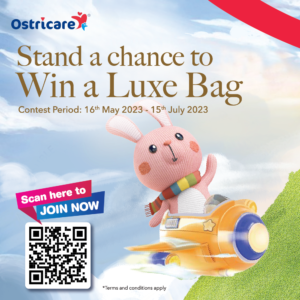 Here's some exciting news for you! Ostricare is running an amazing giveaway contest that is open to everyone. The Contest Period is from 16th May 2023 – 15th July 2023. You could be the lucky winner of a 𝐥𝐚𝐭𝐞𝐬𝐭 𝐝𝐞𝐬𝐢𝐠𝐧 𝐥𝐮𝐱𝐮𝐫𝐲 𝐡𝐚𝐧𝐝𝐛𝐚𝐠 𝐛𝐫𝐚𝐧𝐝 𝐰𝐨𝐫𝐭𝐡 𝐑𝐌𝟏𝟑,𝟎𝟎𝟎 𝐟𝐫𝐨𝐦 𝐅𝐫𝐚𝐧𝐜𝐞
just by participating in the contest! So what are you waiting for? Join the fun and stand a chance to win this amazing prize.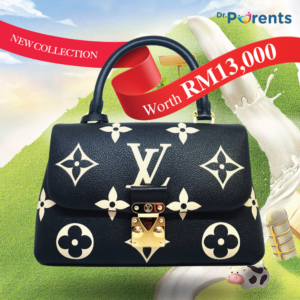 To join the contest, simply head over to Ostricare's Facebook, Instagram page and follow the instructions. It's that easy! Not only will you have the chance to win a fabulous prize, but you'll also get to learn more about Ostricare's products and how they can help keep your little ones healthy and happy.
Join the contest now before it's too late! Don't miss your chance to win amazing prizes!
Visit