School holidays, here we come! What better way to keep your kids active and engaged than with some good, old-fashioned family fun? While it is nice to have your children stay home and enjoy their own space during the holidays, sometimes they need a little fresh air. If you are looking for places to take the kids where they can get active or just away from the screens, look no further! From theme parks to indoor playgrounds and family-friendly workshops, you will find something for you on this list. Here are the Top 10 Best Places to Take Your Child during the School Holiday.
Top 10 Best Places to Take Your Child during School Holiday

1. KidZania, Kuala Lumpur
Get ready to live and learn with your little one at Malaysia's first KidZania! The award-winning indoor family edutainment centre, KidZania Kuala Lumpur is set to make learning unforgettable for the whole family. Offer your tiny tots a warm welcome to the little metropolis! Your children may select from a variety of jobs and experience what it is like to be a doctor, a newspaper writer, a firefighter, and more! Develop skills such as responsibility, confidence, and independence in your children to prepare them for the real world.
They will also earn money that they can spend on services or go shopping! At the end of the day, whatever they choose to do and whatever job route they choose, they carry lessons and life skills with them that will undoubtedly prepare them for the future.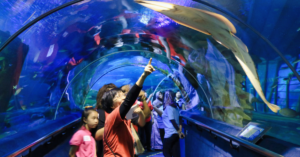 2. Aquaria KLCC, KL Convention Centre
Aquaria KLCC, located on the concourse level of the Kuala Lumpur Convention Centre, is one of the largest aquariums in Southeast Asia. It is home to approximately 150 kinds of marine life, including terrifying tiger sharks, poisonous sea snakes, blue rays, brilliant coral fish, seahorses, and more. It is well worth visiting because it does more than just 'submerge' visitors beneath thousands of gallons of seawater. The venue is designed to take visitors through various watery landscapes, from Malaysia's highlands and flooded jungles to the Amazon basin, coral reefs, and the open ocean. One of the features of Aquaria KLCC is a massive tank with a 90m walk-through tunnel and moving travel in the centre.
Inside, you will be surrounded by sand tiger sharks, massive stingrays, and other sea creatures. In addition to seeing the marine species, there are certain spots where you may dip your hand in the water and touch the marine creatures. While this exquisite underwater environment is a kid-centric attraction, it really caters to people of all ages. There are more reasons to 'dive in,' and those who do will not regret it.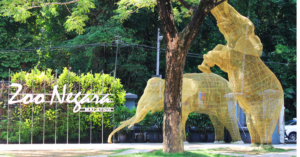 3. Zoo Negara, Ampang
If you are looking for an animal-loving family vacation that includes a wide variety of animals, go no further! For a fun-filled day, the 110-acre Zoo Negara has a diverse collection of creatures including gigantic pandas, orangutans, penguins from the Humboldt Sea, giraffes, and even elephants, among others.
Check out the Children's World area for a family outing, where kids may run about freely among friendly creatures like deer, bunnies, tortoises, and miniature horses! Throughout the day, guests may see animal feedings and shows.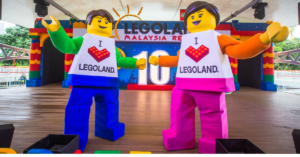 4. Legoland, Johor Bahru
A second amusement park on our list is the well-known Legoland, which is located in Johor Bahru. LEGOs are always an enjoyable time, regardless of your age or if you still consider yourself to be a child at heart. Another amusement park that caters to families, this one has more than ten attractions geared at youngsters between the ages of 2 and 12. Your imaginative creations may be brought to life in the shape of well-known landmarks, amusement parks, and water parks when you visit.
At Legoland, you and your family will never have a dull moment thanks to the laser blasters, virtual reality roller coasters, LEGO robots, and other attractions. You are going to need an entire day to spend here because the park is quite large and packed with a variety of exciting activities. One example of these activities is the self-pedal monorail that runs on a track above the park, and while you are riding it, you can take in the sights of the entire park. Before you go, you really must stop by their Lego store to look around.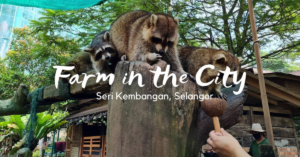 5. Farm In the City, Seri Kembangan
A terrific way to get away from the hustle and bustle of the city while also providing your children with the opportunity to interact with animals and the natural world is to take them to a petting zoo. This village-themed petting zoo is a perfect location for young children to play with animals like horses, porcupines, goats, and a wide variety of other species. It is located about 30 minutes outside of KL.
On this farm, there are no cages or fences, so the animals are free to wander anywhere they like. There are also goodies for the animals available, and the children may use them to feed the big tortoises, newborn crocodiles, and other animals. Farm in the City is a terrific location for children to study outside of the context of traditional school textbooks. There are over one hundred diverse types of exotic animals and over sixty different varieties of plants and vegetables.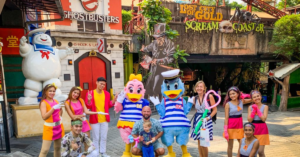 6. Sunway Lagoon, Bandar Sunway
You can never go wrong with a trip since it is the best destination possible for a fun day out with the family. In addition to having an exciting time in the waterpark, there are over 150 different animal species that you may meet in Sunway Lagoon, and you can even get up close and personal with them!
The amusement park anticipates more foot traffic over the school vacations, which will result in lengthier wait times. If you want to get the most out of your trip during this busy time of year, you should get the Quack express so that you may bypass the lines for the rides and attractions you want to see.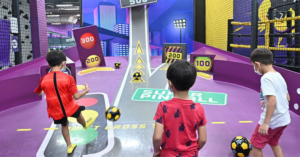 7. Super Park Malaysia, Avenue K
At, a one-of-a-kind, custom-built, all-in-one indoor activity park that is situated in Avenue K Shopping Mall, you and your children may look forward to a wide variety of enjoyable experiences. The enormous indoor amusement park is spread over two floors and is subdivided into three zones. It is packed with a wide range of activities that are suitable for families and that get the heart racing, and these activities are just as much fun for the adults as they are for the children.
There are over twenty-five thrilling games and activities available inside, ranging from obstacle walls and big trampolines to foam pits and an ice-skating rink, ensuring that there is something suitable for people of all ages and levels of physical ability.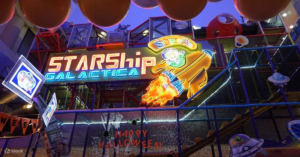 8. Starship Galactica, 1 Utama Shopping Centre
If you spent a significant amount of your childhood at the 1 Utama Shopping Centre, there is a good chance that you used to play at Starship Galactia at least once in your life. For children, this enormous indoor playground is a veritable playground paradise in every sense of the word!
The youngsters that visit this playground with three levels will have a wide variety of things to investigate and play with, including mini-games, obstacles, ball pits, and jumping courses. The greatest thing is that there is also a café where parents can sit down, relax, and have a meal or a cup of coffee while their children play.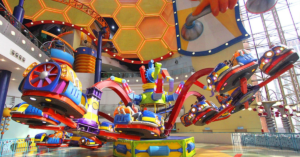 9. Berjaya Times Square Theme Park, Kuala Lumpur
The Berjaya Times Square is a massive indoor theme park in the centre of Kuala Lumpur that is hidden inside of a shopping mall. It spans three floors and a total area of 133,000 square feet, and it is home to a number of fascinating activities. Take a break from shopping and go on over to the amusement park to discover a world packed with exciting rides, colourful installations, and exciting virtual entertainment.
Galaxy Station and Fantasy Garden are the two distinct areas that makeup Berjaya Times Square, and they provide activities that are appropriate for both adults and children. The thrill-seekers will find their happy place at Galaxy Station, which has attractions like the Supersonic Odyssey that are certain to get their blood pounding. At the Fantasy Garden, families can create lasting memories together thanks to the vibrant and engaging activities that are available there.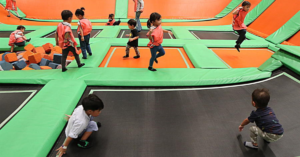 10. Jump Street Trampoline Park
You should take your child to Jump Street Trampoline Park if they like leaping and playing like monkeys. They are not limited in either the amount of height they can achieve or the distance they can leap horizontally or vertically. Because the areas are so large, everyone may run, jump, and play to their heart's pleasure. There are also activities like slam dunk and dodgeball that your child may play while they are jumping on the trampoline!